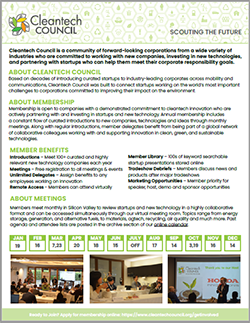 Cleantech Council is a membership-based community of corporates who are committed to partnering with and investing in startups and new technologies to help them meet their corporate responsibility goals. Members meet monthly to discover, evaluate, and support startups across clean, green, and sustainability technologies.


Based on 20 years of introducing communication startups to the Telecom industry through the Telecom Council, and over 10 years of introducing mobility startups to the automotive industry through the Autotech Council, Cleantech Council was started in 2022 to connect startups working on the world's most important challenges to corporations commited to improving their impact on the environment. Members represent a wide variety of industries including energy, materials, manufacturing and chemicals who are partnering with startups to meet their corporate responsibility goals.
To gain membership, companies must be able to demonstrate their commitment to partnering with startups, investing in new companies, and working together with other corporate tech scouts.
Ready to get involved?
We have over 100 of opportunities for startups to pitch or demo every year for free, monthly opportunities for corporates to meet and discover startups and innovation, ongoing opportunities to network and research, and a few marketing opportunities mixed in. Everyone from giant energy companies to venture-funded startups can get involved.
Details on speaking, membership, and sponsorship here.